My girls love to be in the thick of all I do. Be it cleaning or gardening, I can always count on having little shadows and helpers at my side! I love doing things geared towards their imagination and abilities! This is the
PERFECT
recipe for any young helper!
Junk Food Sushi is a concoction of all things kids love...


Twinkies! Fruit Roll Ups!! Candy!!!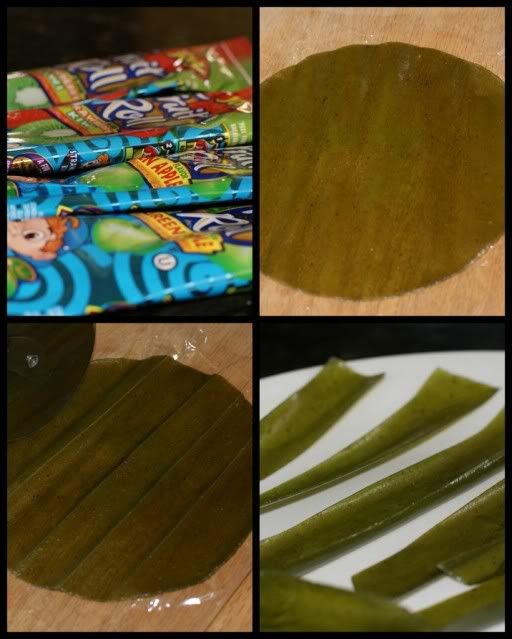 I love the color of these Green Apple Fruit roll ups!!! They look as close to Seaweed
as you could get!!
Unroll the fruit roll up and using a pizza cutter slice it in 6 strips.
Now you will slice each Twinkie into three equal parts. Wrap a slice of the Fruit roll up
around each piece of Twinkie leaving the cream filling sides exposed.
Now comes the fun part! Add your favorite small candies! I always add a Swedish Fish!! It is "Sushi" right!!!! We also added sour Gummie Worms that I cut in half and Tropical Flavored Skittles! Other candies to consider using are Red Hots, Licorice Pieces,
Mike 'n Ikes and Jelly Beans! Anything small and colorful!
And
VOILA!!!
A super yummy tasty treat!
(I personally hate Twinkies and the taste of these but I'm a mom!!)
Kids LOVE 'em and why wouldn't they! Sugar!Candy! Junk Food!!!!
Hooray!!!!!!